Source Videos Panel
Source videos list, import and interpret options
•
Import and set the video options: Interpret video to modify video characteristics like
aspect ratio, and timecode to check and change the video timecode.
•
Shows detailed video information, including aperture,F-number and ISO when
available. The video information can be obtained directly from video stream, or from
additional file information like in Canon HDSLR series.
•
Set the import options, for instance, a timecode or color space for all the videos being
imported.
Processing Settings Panel
Settings and filters applied to the videos
Convert Video Standard / Resample / Frame Rate Conversions
•
Presets for video common standard conversions, to convert your videos directly to
a different video standard.
•
Video output size options, to convert your videos to standard HD/SD/4k and
custom video dimensions.
•
Video output frame rate options, to convert your videos to standard frame rates.
•
Video Deinterlacing using high quality motion adaptive methods.
•
HD pulldown removal, for 24p videos embebed in 60i streams.
•
Frame rate corrections, for instance, to correct 30p videos to 29.97, the audio is
corrected also.
•
Film grain, luma and chroma grain.
•
Motion blur, configurable via shutter angle, shutter speed or blur
amount.
•
Chroma smoothing to enhance the chroma component increasing
quality.
•
Output levels. To avoid washed-up videos or clipped highlights, it
allows convert video levels between TV and PC levels range,
keeping superWhites.
•
Video Flip. Convert to Black and white. Chroma smoothing.
•
Video filter: Remove compression artifacts.
•
Color space conversions between Rec.601(SD), Rec709(HD) and
rec.2020(4k)
Aspect Ratio conversions / Zoom / Crop
This feature allows to change the aspect ratio or perform high quality
zoom and rotate on the video. The user interface is totally visual and
intuitive.
Aspect ratio changes can transform video to and from any aspect ratio,
for instance SD 4:3 videos to and from HD 16:9 format. Aspect ratio
changes are conformed to ITU-R BT.601 or digital, avoiding frame
distortions when transforming SD videos.
Zoom / Region of Interest allows for instance to get rid of vignetting or
bad corners when using certain lenses.
The color correction system include several filters to improve the video, and
waveforms and scopes, to open the color correction system select a video and press
the button "Color Correction".
Is also includes the LUT manager, to manage and preview your favorite LUTs in
several formats.
Intertake
tm
integrates the new XM Denoiser
tm
, a professional video
denoiser developed specifically for video, focused on removing the
noise and preserving the video fine detail. XM Denoiser
tm
configuration is done through a visual and easy-to-use user
interface.
For more information about XM Denoiser
tm
, please

click on this link

.
Overcrank uses motion estimation technologies to synthetically generate high quality
video frames. This feature allows to get perfect slow motion on any video, from 2x
slow motion to 40x ultra slow motion. On a 60p video 6x Overcrank will produce the
equivalent of 360 fps video or 6x slower.
Video Produce Panel
Video format and options, start the processing


In the video output panel the user can select the video output format and codec,
and several options like the destination folder where the processed videos will be
saved.
Also here you can set the proxies creation mode, and the join mode.
The videos can be processed or the user can get a small video preview to test
different settings and filters before processing the final video.
Intertake
tm
user interface is designed for an easy and fast configuration. All
the configuration is done on a single window which shows all the options and
features specially organized to make the configuration process simple and
fast.
The user interface is divided in three panels:
•
Source Videos:
shows the imported videos and allows to set the
preprocessing options.
•
Processing Settings
:
to set the processing options for the videos.
•
Produce Panel
:
to set the video format an encoder, the destination and
rename options for the produced videos, and start the processing.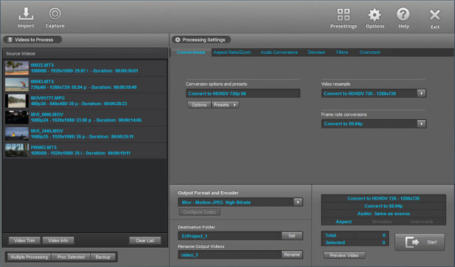 Copyright © 2018 Acrovid. All trademarks are property of their respective owners
The audio sample rate, bits per sample and channels can be converted from original
video.
The audio can be extracted to a uncompressed file. Also, for bad synchronized videos
an audio delay in milliseconds can be adjusted.
You can also add external audio tracks to your videos.
Sign up for our newsletter to receive
news and special offers


In the settings panel you can perform a wide variety
of video transformations and filtering.
Just select any setting or filter to be applied to all the
videos to process.
You don't need to configure the settings for each
video standard or format to process, the smart batch
processing autocofigures the settings automatically
for each video.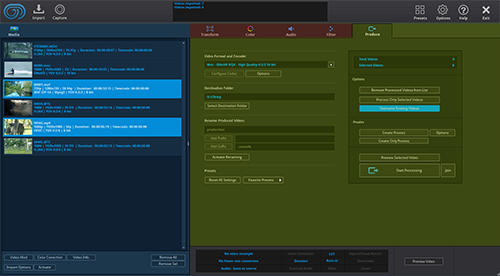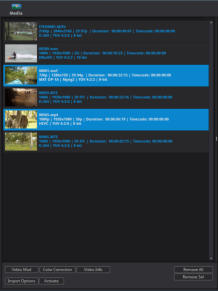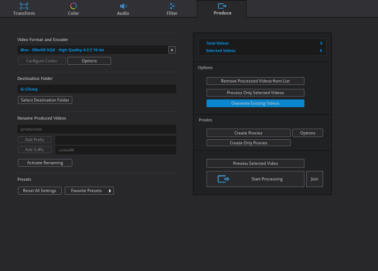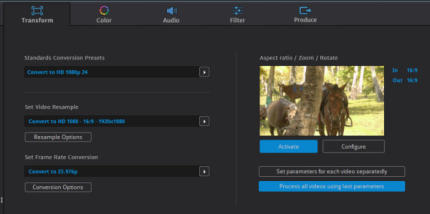 Here you can quick set your favorite LUTs without open the color correction system.
You can create your favorite LUTs in the LUT manager.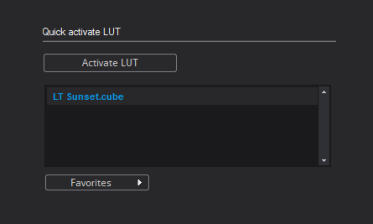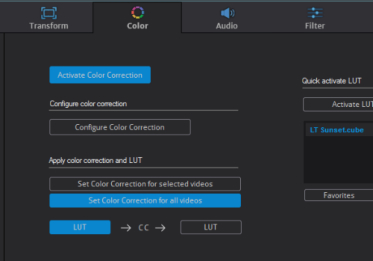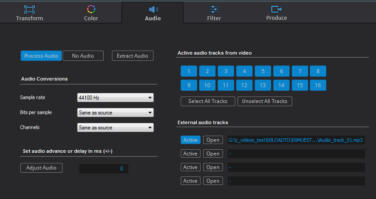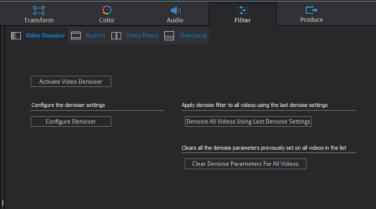 Burn-in filters supports:
•
Timecode
•
Frame number
•
Text
•
Filename