The best pro video tool.
Get your videos perfectly corrected
ready for editing or publishing.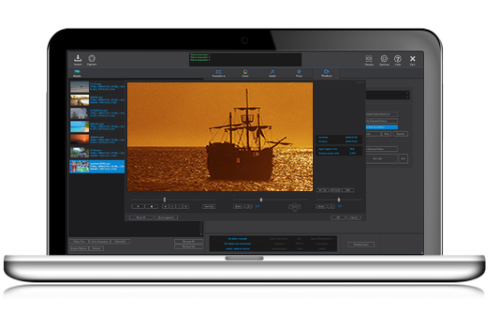 High quality transcoding and complete video transformation with smart batch processing.
Supports all video standards SD/HD/4K/8K, SDR and HDR, NTSC and PAL.
Copyright © 2020 Acrovid. All trademarks are property of their respective owners
Innovation and productivity
High quality video workflow
Fast multiple videos processing
Sign up for our newsletter to receive
news and special offers
For questions/feedback about this website email webmaster@acrovid.com

Process up to 4 videos simultaneously
using your multicore CPU.
Supports CUDA and OpenCL GPU cards.
Pro and consumer video formats

Broad pro industry standards formats support including DNxHD/HR,
XDCAM or Cineform, and formats like Quicktime or MXF Op-1a/Op-Atom
fully compatible with best NLEs.
Nvidia and Intel Quicksync support for AVC and HEVC encoding with HDR10
metadata.
Video rewrapping without reencoding.
Designed for high quality and fast processing.
Internal workflow with 8-bit, 16-bit and
32-bit internal processing.
Support for all video standars and frame rates.
Convert between any standard or non-standard
videos, PAL or NTSC, interlaced or progressive.
Increase your productivity and save time when editing.
The automated processing is optimized for fastest
simultaneous conversion of several videos.
Apply the effects, filters or LUTs to one, tens, or hundreds or videos
automatically with smart batch processing.
Mix different video standards in the source videos, and the smart
auto configuration will select the best processing settings for each
video.
Intertake 1.3.119 X64 released
Intertake x64 1.3.119: fixed start problem on some Windows versions, improved color space conversion engine,
faster decoding, encoding and processing speed. features new rewrapping modes without re-encoding, HDR
MaxCLL and MaxFALL calculation and nits limiter, support for HDR10, GPU HEVC encoders, SDR/HDR conversions.
The user interface is improved based on user's suggestions, thank you!.
Now it is easier to select and configure the different filters, and the video position is saved between filters.
Intertake 1.0. beta X64 released
New Acrovid Intertake x64 is released as beta, the public version will be released in next months.

Get your videos ready to edit or publish
Video denoise and filters
Intertake performs pristine standards conversions with optical flow.
Frame rate and video dimensions can be coverted separately.
Convert any source to any other format, for example PAL to NTSC, SD
to HD, interlaced to progressive or progressive to interlaced.
Bitdepth up and down conversions.
Powerfull and fast video transcode and transform
All in one step
Convert SDR to HDR or HDR to SDR with HDR10 and HLG
support. The 3D LUT manager allows to organize, combine and
apply your 1D and 3D LUTs with real time preview.
LUTs and color correction can be exported in .cube format.
Standards conversions.
frame rate conversions and resample
Pro color correction with SDR/HDR modes
and real time preview
HDR10 support. SDR/HDR conversions.
3D LUT manager

High quality 32 bits color correction with SDR and HDR modes.
Waveforms and scopes. Color correction includes professional
filters with real time preview, and ContinuousEffect to get
perfect quality corrected videos.

Gamma and color space conversion engine supports conversions between most
popular prosumer and pro cameras and formats.
Color spaces support include Rec.601, Rec.709, Rec.2020, and Sony, Panasonic,
Canon, Fuji, DJII, Protune, Blackmagic, Arri or RED cameras gamut.
Gamma conversion supports HLG, ST2084, and log formats from most popular
cameras, sony S-log, Panasonic V-log, Blackmagic gammas, Arri LogC, Cannon Log,
DJI D-log or Fuji F-log.
Convert audio sample rate, bits per
sample and channels.
Remove audio channels and add external
audio tracks.
Get your videos clean with the fast video denoiser with real
time preview.
Intertake includes several video filters to fine tune your videos:
levels, film grain, motion blur, remove artifacts, timecode
burn-in, video trim, and more.
SDR and HDR gamma and color space conversions
support for more than 60 cameras and formats
Get started with basic and advanced tutorials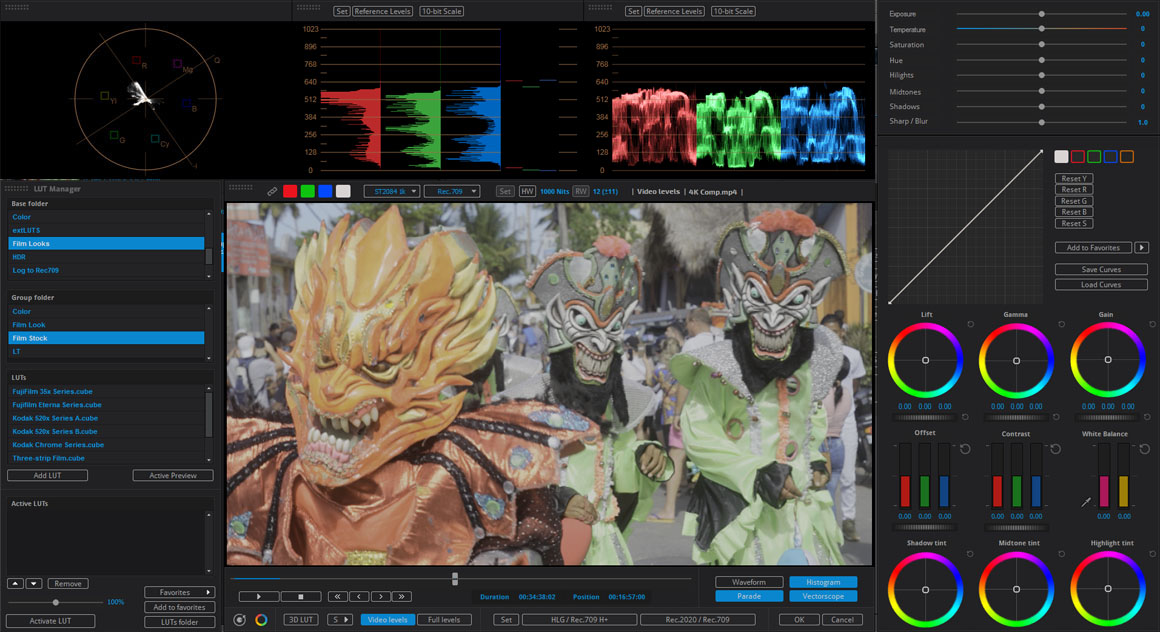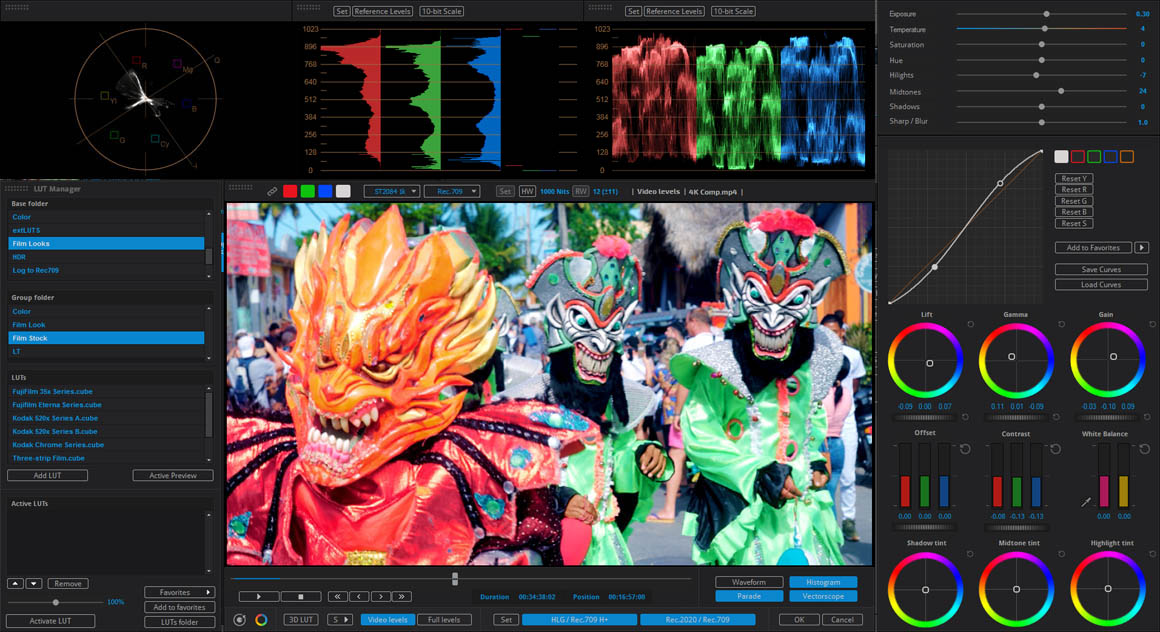 Pro color correction with SDR and HDR modes
Real time preview